Randy Babbitt
Federal Aviation Administrator
"The portrait is up and the unveiling was a great event. Many raves & compliments for the portrait. It looks fantastic!!!
Again, many thanks, it truly is beautiful!"
Randy
Ralph Muller
CEO
University of Pennsylvania Health System
"Very pleased with the portrait, as are my family and friends. Thanks for the excellent painting."
Ralph
Dr. Barbara Schindler
Vice Dean Educational and Academic Affairs
Professor of Psychiatry and Pediatrics
Drexel University College of Medicine
"You were an incredible pleasure to work with and I can't thank you enough for the spectacular result."
Barbara
Dean Gloria Ferraro Donnelly
Dean of the College of Nursing and Health Professions
Drexel University
Portrait Society of America
Finalist, Members Competition
Commissioned Portraits
Dr. Stephen Hahn
Henry K. Pancoast Professor
Chair, Dept. of Radiation Oncology
Perelman School of Medicine
University of Pennsylvania
Ronald Sandmeyer Sr.
Chairman of the Board
Sandmeyer Steel Company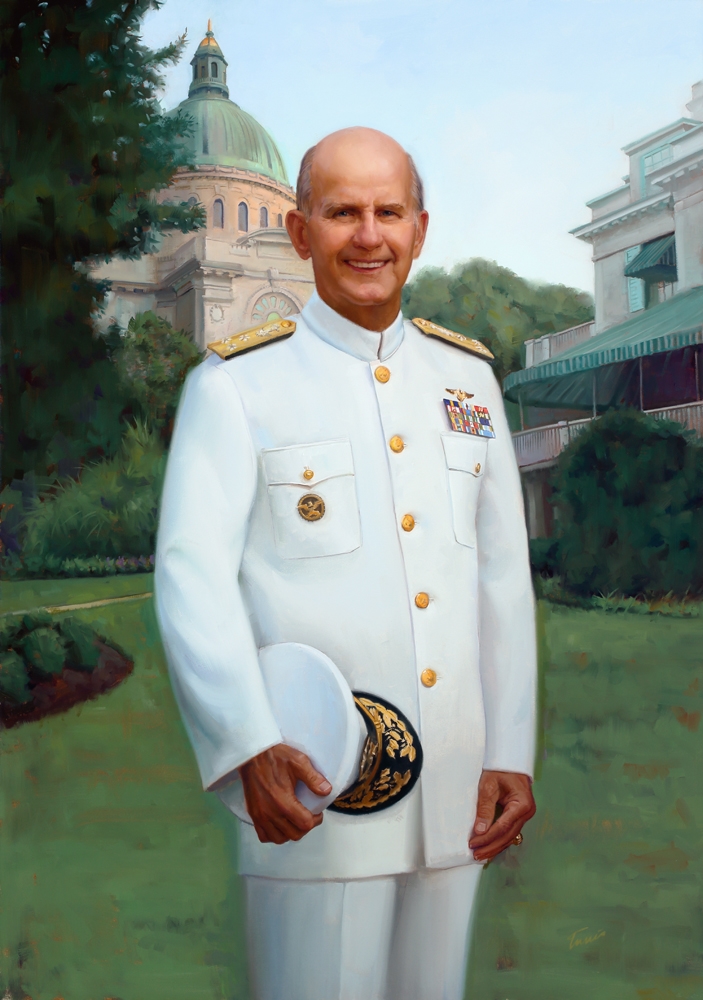 Vice Admiral John R. Ryan
Superintendent
United States Naval Academy
 
Dr. Carson Schneck
Professor of Gross Anatomy
Temple University School of Medicine
Dr. Philip Gerbino
President
University of the Sciences
"John Ennis is truly a portrait artist icon. Was very impressed with the way he managed the sitting, choosing the proper pose and capturing your essence as people know you, and remember you. Recommend him highly for a personal portrait especially for C-Suite level work."
Philip P. Gerbino
"Thank you again for your spectacular work"
Marvin Samson, Interim President University of the Sciences
Richard Reif
President
Doylestown Hospital
"John's talent for portraiture is unparalleled. His ability to capture a loved one goes beyond getting the little details right. While that alone is remarkable, he is also able to highlight the person's soul and it leaps from his canvas. John's portait of my father is truly incredible. What an honor! Thank you, John."
Jennifer Reif Gifford
Dr. Roman DeSanctis
Director of Clinical Cardiology
Massachusetts General Hospital
Evelyn and James Jenks–Paul Dudley White Professor of Medicine
Harvard Medical School
"Thank you so much for your beautiful portrait. We are so pleased. What a great talent!"
Ruth & Roman DeSanctis
Dr. Robert J. Feeney
Founding Director, Cephalon, Inc.
Portrait Society of America
International Competition
Honors Award 2006
"In my eighty years I have experienced many emotional moments but frankly none so profound as when I first saw your portrait of me. You captured my very soul. My resignation from the Board of Cephalon marked the end of a fifty-five year career in the pharmaceutical industry. I see in your portrait a man at the top of his game and very much satisfied with the outcome."
Dr. Robert J. Feeney
Demond T. Martin
Popp Martin Student Union
UNC Charlotte
"I just want to let you know that EVERYONE was blown away by your work. The painting is simply stunning. Thank you so much for putting such incredible care into this project. It means the world to my family and me."
Demond
Cornelia Kelley
Headmaster
Boston Latin School
Cornelia Kelley became the first woman
Headmaster of Boston Latin since its founding in 1635
"John Ennis is an accomplished artist with a caring manner and a sensitive soul. His approach to portraiture ensures that the sitter is comfortable throughout the process. He is very serious about his work and is able to connect well with his clients. His finished product is a delight."
Cornelia A. Kelley
Dr. Thomas Lewis
President
Salus University
Justice Judy Cowin
Massachusetts Supreme Court
Karen A. Popp
Popp Martin Student Union
UNC Charlotte
Dennis Ryan, Esq.
Founding Partner
LeClairRyan
Richmond, VA
Dr. Steven Angle
Chancellor
The University of Tennessee at Chattanooga
William and Joan Schreyer
William A. and Joan L. Schreyer Education Center
Frank Sacco
President and Chief Executive Officer
Memorial Healthcare System
42x32
John Bryson
President, CEO & Chairman
Southern California Edison
Mike Maher
Headmaster
Berkshire School
Jonathan Weld
Chairman of the Board of Trustees
The Brooklyn Hospital Center
Dr. Robert M. D'Alessandri
President
The Commonwealth Medical College
Ruth Shaw
former President of Duke Power Company
Foundation of the Carolinas
Dr. Jerry Greiner
President
Arcadia University
Mr. & Mrs. Jerry Richardson
Founder, Carolina Panthers
Foundation for the Carolinas
Dr. Michael Milton
First Presbyterian Church
Chattanooga, TN
Dr. Solomon & Wendy Luo
Robert Bartley
Editorial Page Editor
Wall Street Journal
Iowa State University
Editor of the editorial page of The Wall Street Journal. He won a Pulitzer Prize for opinion writing and received the Presidential Medal of Freedom from the Bush administration in 2003.
Painted posthumously for Ohio State University
"You really captured him."
Edith Bartley
Jo-Ann Osnoe
Irwin Belk
Philanthropist
Foundation of the Carolinas
Julius Chambers, Esq.
NAACP Civil Rights Leader
Foundation of the Carolinas
John Cordisco, Esq.
Alfred McNeill
Chairman and CEO
Turner Construction Company
Robert Wildrick
President
Jos. A. Banks, Inc.
Mrs. Charles Sanders
Private Collection
Chapel Hill, NC
Jack Chamberlin
Chairman of the Board of Trustees
Princeton HealthCare System
Portrait Society of America
Members Showcase Competition 2009
Honorable Mention
"I want to thank you, and especially your artistry that created that wonderful portrait of me. I've received many extremely favorable comments from friends and associates, and family."
Jack Chamberlin
Don Hofmann
Chairman of the Board of Trustees
Princeton HealthCare System
John Green
Richard Henry Lee
after Charles Willson Peale
Potomac Shores Golf Resort
Dumfries, VA 22026
John Cleve Green
Founding Donor of Lawrenceville School
copy of Daniel Huntington painting
courtesy Princeton University
Reverend Walter Taylor
St. Luke's Parish
Darien, CT
Susumu Tonegawa, Ph.D
Nobel Laureate
Director of the Picower Institute at M. I.T.
Dean Burnele Powell
Dean, University of South Carolina School of Law
Miles & Ann Loadholt Professor of Law
"You succeeded in the tradition of the great masters, to produce a portrait that also tells a story of my pivotal time in the history of the law school as the first African American dean at the University Law School. To say, therefore, that I am pleased is greatly to understate the truth."
Burnele Powell
Richard Snyder
Headmaster
Cannon School, Concord, NC
Robert Robotti
Founder & President
Robotti & Company, NYC
Artist at Chess
John Ennis self-portrait
Portrait Society of America: First Place Self-Portrait Competition 2005